I tell stories for a living. Stories that are poignant and powerful. Stories that inform, surprise, entertain, and add fresh perspectives to continuing global discussions around conservation, sustainability, social justice, and innovation.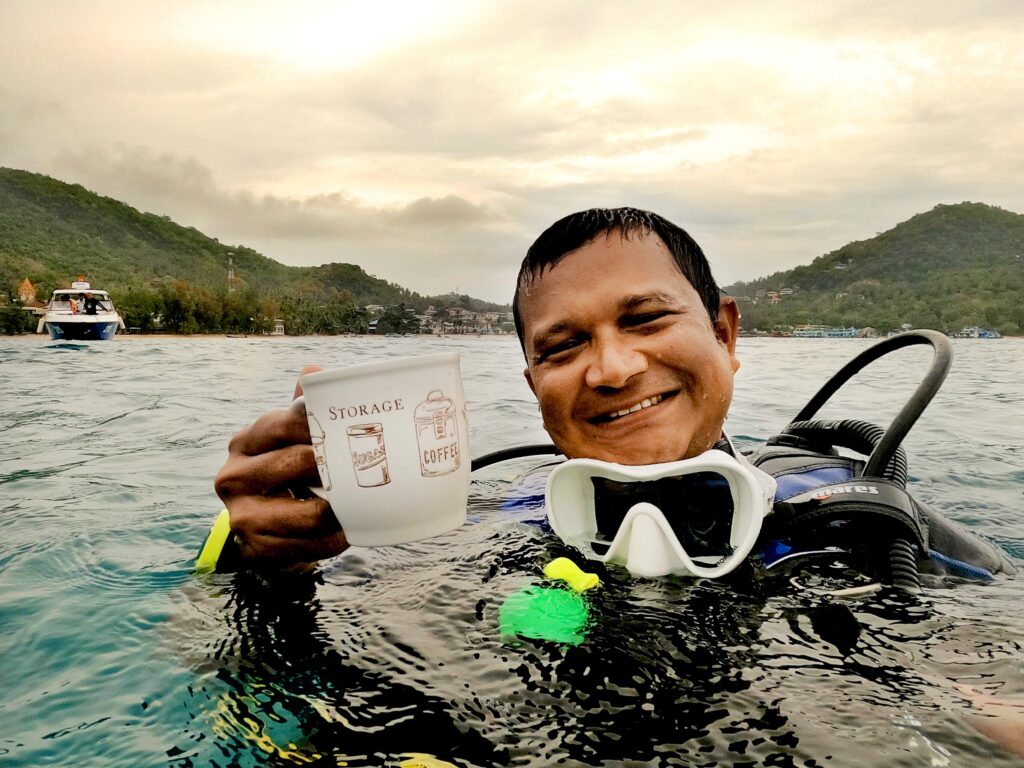 To collect these untold narratives, I often venture to unfamiliar corners of the world. I traverse formidable mountain ranges, meet remote communities, experience antique cultures, survive on strange foods, and occasionally dip to the bottom of the ocean floor. Sometimes, along the way, I participate in curious collaborations, like documenting marine salvage operations with technical divers and government agencies — which is what I can be seen taking a break from in this photo.
Over a career spanning two decades, my documentary films and video stories have been published by companies and organisations such as The Weather Channel, IBM, UNICEF, Lonely Planet, Vice Media, NBC Left Field, CNN Great Big Story, Tata Global Beverages, and ministries of the Government of India, among many others. For my efforts in conservation storytelling, I have earned a few accolades along the way. I was a 2021 recipient of the National Geographic Society Covid-19 Emergency Reporting Fund, a 2019 co-awardee of the Editor & Publisher EPPY Awards as a contributing producer of The Weather Channel's climate project Exodus, a 2015 recipient of the Films Division of India Documentary Fund, and a 2014 finalist at the Sundance Institute / Bill & Melinda Gates Foundation Short Film Challenge.
Apart from filmmaking, I also work as a travel media consultant. Since 2008, I have co-authored and curated more than a dozen travel guidebooks for Lonely Planet, including their bestselling titles such as India, Sri Lanka, Thailand, Southeast Asia, and Bangkok. I have consulted with Lonely Planet to envisage new content models as part of their product development process, notably with the launch of their products for the Indian consumer market in 2012. I have also conducted workshops to train upcoming travel writers with Lonely Planet's New Delhi operations. As a contributing travel feature writer, my articles have appeared in publications such as OZY, The Calcutta Telegraph, BBC Travel, India Today Travel Plus, and Outlook Traveller. In 2012, I travelled the Tea & Horse Road from Yunnan in China to West Bengal in India, surveying the ancient trade route through Tibet and Nepal on an expedition funded by the Government of India.
Having lived in five countries over the years, I am currently based in Fiji Islands, in the vast oceanic expanse of the South Pacific. When not engaged in work, I spend my time diving the spectacular tropical coral reefs of Fiji — I hold a professional PADI Scuba Divemaster licence and a Reef Check EcoDiver certificate — and carrying out serendipitous kitchen experiments with recipes and cuisines from around the world.